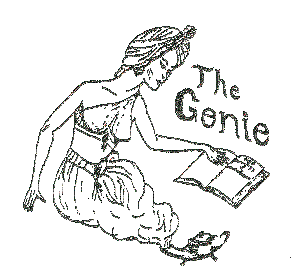 Statement of Publication: We publish The Genie quarterly and distribute it electronically in Adobe.com's portable document format (PDF) to members and subscribing institutions who provide an email address. The Association exchanges The Genie with other institutions' publications, which are donated to the Genealogy Department, Broadmoor Branch of the Shreve Memorial Library located in Shreveport.
We welcome submissions of family history, genealogical research, and research methodology [aids, tips, techniques, etc.], with no geographical limitations. We also welcome town, community, and church histories as well as data and other information on area cemeteries. Photos can be submitted to accompany a narrative.
We accept ancestral queries. Queries should include as much relevant information as possible, i.e. county or parish, time era, etc., and also include your contact (name and address).
The Genie is searchable with use of Adobe Acrobat Reeder. The Genie is indexed in the Periodical Source Index (PERSI).
Submission Style and Citation Considerations: We prefer submissions be prepared using Microsoft Word or Microsoft Excel. If you use another word processing program, please save the file in Rich Text Format (RTF) before submitting.
Please include footnotes, endnotes or sources, as appropriate. Any prior copyrights must be protected. When articles are obtained from another person or source, permission should be obtained from the creator, or publisher of the material, and a statement to that effect provided. All material is subject to edit. Please contact our editor if additional information or assistance is needed. Send typed submissions to our postal address: Ark-La-Tex Genealogical Association, P. O. Box 4463, Shreveport LA 71134 or electronic versions to thegenie.editor@gmail.com.